Tailor-made 3D-Printing Systems for small and medium-sized enterprises
We offer versatile, modular FFF (Fused Filament Fabrication) 3D-Printing Systems especially for small and medium-sized businesses. Our systems help you to respond quickly to dynamic market demands and integrate much better into your process flows than monolithic systems.
STURDY 1: A new Device Class
Maximum Precision due to Core-XY
Our systems are based on Core-XY technology. The motors, typically the largest source of inertia, are stationary. This permits rapid accelerations. Generously dimensioned ball screws and precisely manufactured linear guides ensure defined travel distances in the Z-direction. These features as a whole guarantee a very accurate printing of parts even at high printing speeds.
Heated and Long-Term Coated
The printing plates of STURDY 1 devices are made from massive facemilled aluminum. As a standard, they are equipped with a high-performance heating that allows temperatures of up to 120°C in continuous operation. In addition, all printing plates have a long-term coating which provides optimum adhesion properties for almost all filaments. After a printing plate has cooled down the finished parts can easily be removed and the 3D-printer system is immediately ready for use again.
Closed Printing Chamber
The STURDY 1 devices offer a closed printing chamber. This allows you to reliably process thermoplastics with a high shrinkage, i.e. ABS filaments in high dimensional stability. The transparent panoramic housing hereby grants always an optimum view to the printing process. In the process of production, the printing chamber dimensions will be adapted precisely according to your needs.
Extruder, Hotend and Auto-Leveling
The STURDY 1 direct extruders are professional strong-geared dual drive filament conveying systems. They provide optimum extrusion quality even in less than optimum adjusted parameters. An undefined feed rate and filament slipping are things of the past. This applies particularly to the processing of highly flexible filaments (i.e. TPE). The hotend uses three high-output heating elements in order to ensure a defined and fast melting process up to a temperature of 300°C and nozzle diameters up to 2 mm. A leveling system that automatically adjusts the correct distance between extruder nozzle and printing plate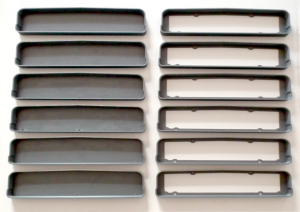 completes the STURDY 1 extruder units and ensures a reliable, convenient handling of the devices.
Interchangeable Printhead Systems
Our Printhead technology allows you to combine multiple units in order to print equal parts in parallel. Thus, small series can be made much faster. Our printheads easily handle a variety of thermoplastics such as ABS, PLA, Polyamides, PETG, PVA, TPE, PP and others.
Interfaces
The STURDY 1 devices integrate their own WLAN and their own print servers. Based on this, flexible user and network interfaces have been realized. You can operate a STURDY 1 device with an integrated touch screen as well as by tablet or smartphone. When using a laptop or PC you always have secure access to your printer via a connected network.
Intelligent Process Monitoring
STURDY 1 devices are equipped with a filament testing system that continuously monitors the printing process by checking the feed rate against the stepper signals for the extruder motor. In the case of deviations, the system adjusts corresponding printing parameters and sends a message to your smartphone across the internal print server. Thus, you always maintain complete control over the print run and no prints get lost.
Benefits of our 3D-Printing Technology:
Sturdy, industry-compliant quality
Optimum integration capacity into existing process flows and systems
Fast start-up and efficient handling of devices
Minimal maintenance requirements
Competent and fast support
Optimum acquisition costs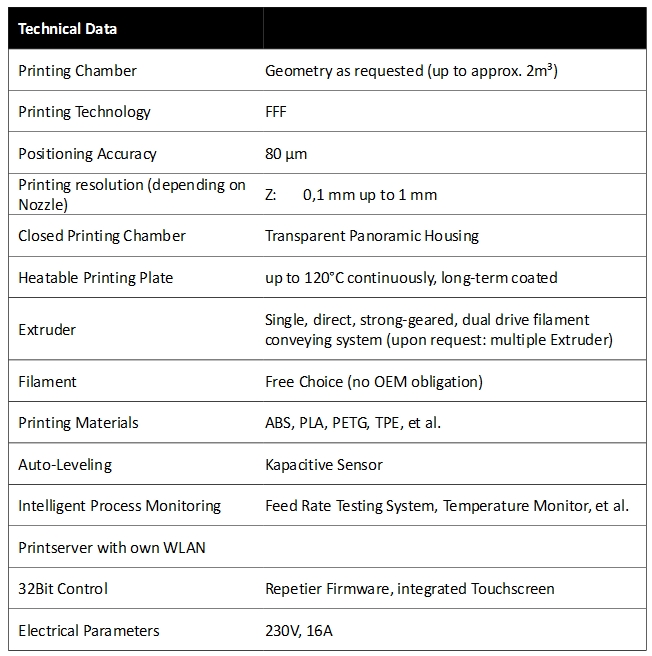 ---
Modular 3D-Printing Systems of facts42morrow GmbH
You have questions about our products or you wish advice?