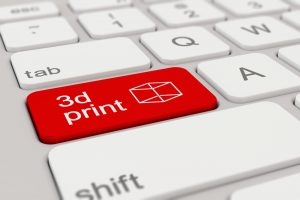 3D-Printing Dresden, Germany
Our 3D-Printing Service is simplicity itself
Model upload (.stl or .obj)
Select material
The cost will be displayed
Enter your email adress (and optionally comments)
Choose "Request a Quote" button
We will immediately send you an offer via email
[3dprint-lite]
3D-Printing in FFF-technology
3D Printing Dresden is an online 3D-Printing service of facts42morrow GmbH. Our CoreXY-3D-Printers use the FFF-technology (Fused Filament Fabrication). Here, thermoplastics are converted from a solid to a viscous state and processed by introducing heat.
The thermoplastics are available as filament on a coil. They are melted by heatable extrusion nozzles into a highly viscous string which is laid down in a geometrically defined manner. Hardening of the resulting geometries happens by a defined cooling of the plastic melt, whereby the composite of the strings is fixed to each other. A three-dimensional application results from the fact that the nozzle in the x-y plane moves to all printing coordinates in this plane and thereby applies a layer. After that, the nozzle is moved up in z-direction by a defined amount (the layer height) in order to approach all printing coordinates of this new plane. This procedure is repeated until completion of the three-dimensional print.
This allows to build multi-layer compositions by use of FFF-technology within a fairly short time. These compositions share essentially the same material characteristics with the raw material.
Materials for 3D-Printing using FFF-technology
There are a variety of thermoplastics that are suitable to produce 3D-printed objects using FFF-technology. Common thermoplastics include:
• ABS (Acrylnitril-Butadien-Styrol)
• PLA (Polyactide–polyactid acid)
• PETG (Polyethylenterephthalat)
• Nylon (Polyamid PA 66)
• PC (Polycarbonat)
• PS (Polystyrol)
• HIPS (High Impact Polystyrol)
• PP (Polypropylen)
• PVA (Polyvinylalcohol)
• TPE (Thermoplastic Elastomers)
In addition, there exist special filaments consisting of material mixtures which have special properties, such as:
• Stainless steel PLA
• Magnetic iron PLA
• Carbon PLA (carbon fiber PLA)
• BendLay (transparent and flexible filament)
• POROLAY (makes microporous structures printable)
• Bronze Fill (bronze with polymeric binder)
• CopperFill (copper with polymeric binder)
• BambooFill (bamboo with polymeric binder)
• LAYWOOD (wood with polymeric binder)
• LAYBRICK (sandstone with polymeric binder)